Our Website Design & Development Process
Starting a new website design project brings on both optimism and anxiety.
On one hand, it's happening. The old site is going away, and the potential to build something new is exciting.  On the other hand – it's happening… how will this go?
In this article, we outline the process and the framework we use to develop websites with you, what each phase is for, and about how long, on average, the phases typically take.
Taking Control Of The Website Design Process
We want you to know there is a process, a plan, and a proven set of steps we use when designing and developing websites. Our process helps navigate both the big stuff and the little details that make a project successful. 
And does so without making you feel like you'll need to figure it out alone.
Over the last 10 years, we've been fortunate to design, build, and develop over 500 websites for small businesses throughout Maine and nationwide. As our business has grown, we've reviewed, adapted, evolved, and improved on the processes and measuring tactics we put into each project.
Beyond the process – we've also outlined answers to a list of common website design-related questions we receive here.
This Is What Happens Next
When managing each website we design, build, and develop at Sutherland Weston, these are the key areas that factor into our effective management process.
The Project manager
The Project tracking software
Design and development stages
Go live preparation
Flowers for you
The Project Manager
Inside Sutherland Weston, we assign project managers to each client and every project. This helps to provide consistency and clarity in whom you can turn to with questions.
The project manager communicates and works with our in-house graphic design and website design teams. The project manager plays a key role in determining the goals, features, and functions for each website project and allocating tasks to our team and clients.
The project manager will also be involved in the copy development process, the page flowchart design, and keyword-focus discussions for search engine optimization and will ensure clients are familiar with how to use the websites we build for them.
Project Tracking Software
We use a web-based tool for our website design lead tracking and project management tasks. This helps to centralize our information from the very beginning and ensures as much as possible that all tasks, stages, files, goals, and pertinent information about a website design project live in a central location.
Design and Development Stages
Discovery – the kickoff meeting to explore features, functions, and goals; "what does success look like?" and the development plan that comes from it.
Flowchart – Mapping the pages and navigation with the user in mind
Content Audit – Examining what is available and needed for the pages outlined in the content flowchart.

Will vary depending on content needs

Interface Design – Developing the look and feel of the website
Content Creation – Editing existing copy, developing new copy, and collecting or creating photos, videos, and documents.

Will vary depending on content needs

Programming – Includes integrating the content management system that will drive the site and the special features, functions, and processes needed to make the website work properly.
Content Review – The editing phase of the website. Reviewing grammar, punctuation, tense, links, forms, and the overall completeness of the information on the website.
Technical Review – Ensuring the website behaves as it should on multiple devices, browsers, and operating systems. Includes testing form entries, e-commerce activity, and advanced features and programming.
Site Launch – Publishing the website for the world to see and use.
In each of the steps above, your time will be needed. Some will require more than others. Let's examine why your time is needed in each phase and how you and your website partner can make your time most efficient and productive.
The Go-Live Process
Once the site is built and content is added, it's time to review and prepare for the world to see your work. Our 'go-live' process involves the following components and is done by our team:
We test our work in current versions of major desktop browsers, including those made by Apple (Safari), Google (Chrome), Microsoft (Internet Explorer 11 and Edge), and Mozilla Firefox.
We review links and images to ensure they work and present as intended.
We ensure the domain is properly set to point to the new hosting environment.
We test logging into the website.
We test logging into any special feature areas.
We test website forms to ensure they are working and going to the right person.
We set up Google Analytics to ensure we"re able to track and measure activity once the site goes live.
We check any 301 redirects set up to ensure Google will see your content even though the location has changed.
Several other smart and techy things are done by talented folks with fancy computers to make sure all is right for launch.
Flowers Delivered To You
When the site is live, we like to say thank you with flowers. Why not – you deserve it!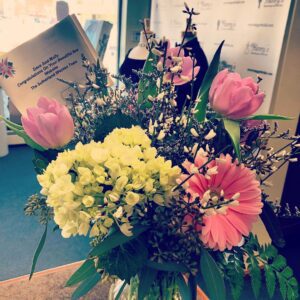 More Website Development Answers