A Maine Video Production Company
Are you looking for a video production company in Maine?
Our Team Helps You Look Your Best By Guiding You Through Each Step Of The Video Planning & Production Process
Our Integrated Video Production Approach Includes:
Discovery/goal setting
Draft script development/revision
Scheduling calendars for travel, shots, and people needed the filming
Filming on location(s)
Editing film into an initial rough timeline
Managing external talent & props
Exporting for review of the initial video draft
Revisions as needed
Captions & Transcripts
Exporting the final product to locations or destinations needed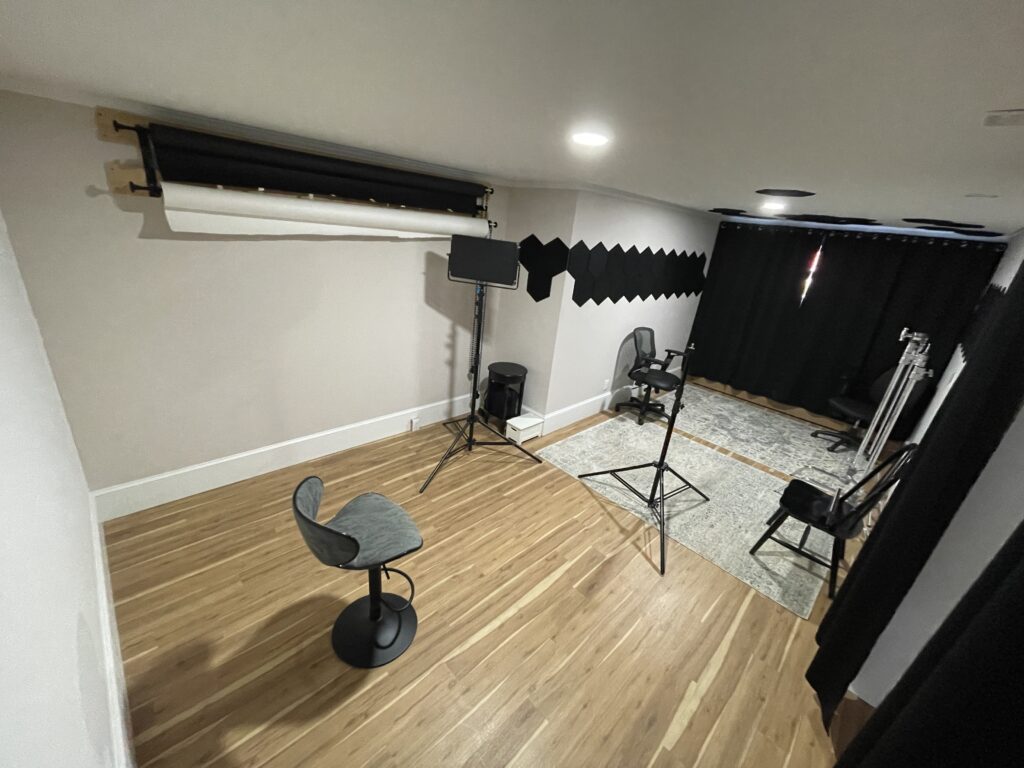 Your Story-Telling Studio
Our in-house filming studio can be customized and transformed to bring your vision to life. It's perfect for:
Product demos
Social media content
Interviews
FAQ Videos
Sales Videos
Videos We Produce Most Often Include:
Corporate Communications Video
From product demonstrations, company overviews, and trade-show promotions, we help shape effective visual stories that enables your business to catch the attention of prospective customers.
Product demonstration
Employee / Corporate Culture
FAQ Answers
Trade Show Marketing
Corporate Overview
Public Relations
TV & Digital Marketing Video
If you're looking to sell it, our team offers you a one-stop shop from idea generation to post-production polish to help make the register ring.
Television Ads / Campaigns
New Product Roll Out
Event / Sale / Limited Time Offer
15, 30, or 60 Second
Website Use
Pre-Roll & Social Media
Recognition, Events, & Awards
Our team leads the way when it comes to awards, celebrations, company anniversary and special event videos. You give us the goal and we go to work making your event look great.
Company Anniversaries
Annual Event / Gala Celebration
Award-Winner Overview
Achievement Awards
Non-Profit Organizations
Telling stories to help support the mission, raise funds or inspire action is our specialty.
Annual Campaign Overview
Capital Campaign
Cause or Event Promotion
Fund-Raising Awareness
Video Case Statement
Answers To Video Production Questions
Can I Rent Your Video or Podcasting Studio?
Absolutely! Reach out and let us know what you're looking to do and we'll do our best to help you bring that goal to life.
How Much Does It Cost To Make A Video For My Business Or Event?
Videos can include a number of factors that impact pricing. These can include final length, complexity, travel and logistics, to name just a few. Consequently, answering this question without many details can be difficult. However, we know it's important to have ranges for sake of researching your options.
Typical pricing for a :30 second television commercial begins around $2,500 and can go up from there. On average, most of the television spots we produce will be in the $3,000 – $5,000 range.
Corporate video productions, which can include more moving pieces, travel, and depth due to the nature of their goals, will range between $5,000 and $25,000. Yes, that's a big range we understand. We'll fine-tune with more information.
A 2-3 minute video with reasonable travel and manageable logistics (schedules, interviews, needed shots, etc.) will run around $7,500.
What impacts the cost of a video?
The short answer is time, travel, and complexity.
We take great pride in working to produce videos that can get noticed and make a positive impact on the goal you're looking to achieve. Managing people's schedules, traveling to get that special shot, and adding effects and animation can all increase the time and impact the cost of the final product.
Changes in scope and direction can also affect the time and cost of video. Our production team will work hard to listen to your goals and the type of end product you're looking for and draft a script and work plan accordingly. We do quote based on what we know. If needs change or new information is presented, costs can as well.
Bottom line is we want you to love what you get and we'll work hard to ensure we have open, transparent, and sincere conversations to the best of our ability to make that happen.
Did you guys make the "Buttery Flaky Crust" blooper video?
Yes we did 🙂
What a hoot that was. Originally it was posted on our YouTube channel to share with the Dysart's family for their company Christmas party. Who would have thought it would have become a viral sensation.
Imagine our surprise waking up one Sunday morning to hear that Saturday Night Live had spoofed it with Kate McKinnon and Will Ferrell. While that certainly got a lot of laughs, we still feel the original is better 🙂
Meet Jack & Sonia
Do you shoot with a drone?
Yes. We are FAA Part 107 certified to fly and operate for spectacular drone and aerial filming needs.
Do you film as well as edit video?
We do. For quality control and to help the vision developed come to life, we film and produce the spots we make. We have two filming crews on staff to ensure we can be responsive to scheduling and production needs.
Can we have the project files?
In short, No.
A large part of what sets Sutherland Weston productions apart is our post-production workflow. We have a unique and proprietary method of editing that we try to keep "behind the curtain."
In addition, nearly all of the effects and corrections we make are done with various third-party software and plugins. Many of these were actually designed and developed in-house, and are not available anywhere else.
Opening our project files would require the purchase of thousands of dollars in software, and the removal of our proprietary effects and corrections would do away with the polished look our productions are known for.
Can we have the raw footage from the video shoot?
The cameras we use produce cinema-grade footage, which requires processing and color correction from professional editing software. The files that come directly out of the camera have flat-color, and are, for lack of a better term, "ugly."
Editing is part of our process, our product, and our style. It's part of why you hire us, and is just as important as how we frame and time our shots. Our edits are the kind of work that is on our website, what we want to represent us, and the caliber of work we want our clients to expect.
We're not going to withhold that "one killer shot." Part of keeping costs down for you is being as efficient as possible in every phase of the project. Our experience allows us to shoot just what we need, and rarely much more.
Because we shoot and edit our productions, we are able to make decisions during filming about which imperfections should be fixed on set and which can be fixed in editing.
Points to consider:
The raw files may have flaws that do not accurately represent the attention to detail that defines our brand.
The native camera files will not play on most computers.
The file sizes for raw files can be as much as 12GB per minute of footage, nearly 100x that of standard consumer-ready video.
If we know upfront that raw footage will be needed, we can adjust the quote accordingly to allow for a more thorough filming process, as well as time to prepare the footage for playback on a wide variety of operating systems.
Do you use actors or real people in your videos?
Both. Depending on what the goals of your video call for, casting the appropriate people can be an important element.
When it's time to make those decisions, here are a few elements we bring to the project:
We have access to professional actors available for productions
We can coach participants to fit your production
We can coach non-actors (employees, customers, etc.) to fit your production
Our expertise can help determine if your video requires actors or non-actors
How long should my final video be?
A common question with a consistent answer: typically shorter than initially thought.
Great storytelling and visual impact should be conveyed without lengthy overviews.
Other factors to consider when the length of a video is being planned:
60% of people stop watching videos online after 90 seconds
Videos should run long enough to transmit your key message to your target
Research indicates shorter videos are stronger
Length often depends on viewers' patience, audience, and impact
Chapters within your video help to best tell longer stories
Can I put the video on my website when it's done?
Yes. Videos can be uploaded to a service (i.e. YouTube) then shared for viewing on websites and social media channels. During the Discovery phase of the project, we'll discuss how you'll want to use the end product. This is important to the production process as different sizes and perform best on various social media and website channels.
Do you have music and voice sources for my video?
We have access to professional voice talent and royalty-free music
We use sounds and voices based on tone, energy, pace, and goals of your video
We can create custom music for your video
Do you write scripts for your videos?
We do. We have in-house writers who learn your goals and craft professional scripts to reach and attract your target audience.
Do you create graphics and animations in your videos?
We do – both still graphics and animated graphics with special effect can be produced in our studio.