How to Build a Social Media Plan for Your Business
Managing a social media account is on everyone's "must do" marketing list.
But, 'what to do' and 'how to do it' are some of the most frequent questions we get from businesses and non-profit organizations alike.
If you are searching for a way to get organized and focused with your social media marketing channels – here's an easy way to plan and organize activity to help you post with purpose.
---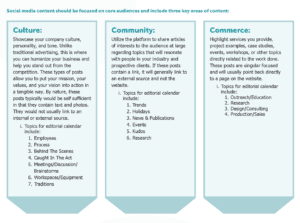 Three Key Categories To Consider In Your Business Social Media Planning
Community
The simplest and easiest way to generate social posts as you're simply sharing articles, images, or videos that already exist somewhere else.
Community-themed posts promote items of general interest for your target audiences. These posts do not be related to your business or organization. Community posts typically don't include anything about your company – you're simply sharing and spreading goodwill.
Community posts are an excellent way to tag others and use hashtags as this will help increase the visibility and impact of the post by introducing it to potential audiences of other social media accounts.
If these posts contain a link, they will generally link to an external source and not your business or organization's website.
Examples of Community posts include:
Interesting news articles
Relevant studies or research articles
Quizzes or contests
Promoting an event or cause
Celebrating another's milestone or achievement
Sharing trivia
Culture
These are posts promoting the inner workings of your business. These types of posts allow you to put your mission, your values, and your vision into action in a tangible way. By nature, these posts typically would be self-sufficient in that they contain text, photos, or video. They would not usually link to an external source. An exception would be highlighting an employee article or company recognition from an external source. 
This is also where you can show expertise, provide help to your buyers, and provide helpful information and answers to frequently asked questions.
The key here is to be yourself – show sincerity and authenticity. Be visual and casual and help to share a little of the flavor that makes your company, its people, and your processes unique and special.
Answering FAQ's
Showing a process
Demonstrating the equipment you use
Showcasing employees
Video or Audio Podcasts
Going behind the scenes
Events and celebrations
Candid moments at work
Commerce
These posts typically feature a call to action and has everything to do with how you make your money. These posts are singular focused and will usually point back directly to a page on the Institute's website. The key here is to be targeted and specific and show value, reason and benefit to the end user. You're asking the audience to act on something specific (purchase, volunteer, donate, register, etc) and you want to be very clear and straight forward so that you can get the greatest level of understanding in the shortest amount of time.
Selling something specific
Asking folks to register for an event
Seeking donations to your organization.
Testimonials
Seeking donations to your organization.
Prices videos
Product demonstration
Case studies
3-2-1 Ratio In Social Media Planning
When you're putting together a posting plan, you'll want to use a mix of these categories on a regular basis. Utilize a rotation that makes sense for your organization. We suggest a 3-2-1 ratio to keep things simple at first.
What is the 3-2-1 ratio? It's a combination of:
3 Community Posts
To Every 2 Culture Posts
For Every 1 Commerce Post
This ratio is not meant to be a fixed rule but rather a starting guide to helping you plan for an effective posting schedule. Depending on your posting frequency, this could be a day or a week.
Once you get going, review regularly to see what kind of interactions (shares, comments, likes, clicks, website visits, etc) various posts deliver.
Map the components to see what higher-performing posts have in common and do the same for low-performing posts. Learning and adjusting on a regular basis will help you learn what your audience prefers and which kinds of posts help you move closer to your marketing and communication goals.
The 20% Rule Of Social Media Commerce Posts
For general timeline posting practices, it's best not to be selling more than you are helping and sharing.
Keep in mind that your goal for social media is two-fold:
Increase the reach and impact of your business and organization
Learn from and add value to connections made
You'll want to share interesting, relevant and meaningful content and not be a pressure salesperson to your social audience. The ratio we mention above keeps your commerce posts to under 20% of your overall activity. That's a good benchmark to aim for.
Paid posts and sponsored activities is where you can increase the frequency and impact of your commerce posts on social media platforms.