Reimagining Customer Service for Small Businesses
If you own a small business in Maine you have most likely been affected by the State's response to Covid-19. Businesses are finding it difficult to connect and build relationships as operations continue from behind closed doors and are struggling to reach their customers in a meaningful way. You probably have noticed there is no shortage of armchair experts online, clamoring to offer their advice on the "new normal." Marketing blogs from all corners of the globe are encouraging business owners to be "compassionate" and "show your customers that you care."
As Mainers, showing empathy and compassion isn't exactly a change of pace for us. We take care of each other here, it's a way of life. So how should we, a state comprised of small businesses, adapt to these strange new times? Unfortunately, there's no Magic 8-Ball for this situation, but I believe the answer lies within a mixture of our deep-rooted community spirit, our entrepreneurial drive, and the amazing technology that lay at our fingertips.
Buyer Behavior
Everything has moved to the web. No matter how you feel about social distancing, you cannot deny that the best solution to continue operations exists online. While we're at it, let's go ahead and assume that, as a result of this, our customers will continue to conduct many of their transactions online even after things open back up. Buyer behavior is not going to return the way it used to be. So, what does this mean for your small business? Simple, A+B=Update your website.
Pick Your Messenger
Choose a messaging platform that best serves your needs and stick to it. Centralizing your messaging will limit customer confusion (how do I reach you?) and will establish a dependable line of communication. What am I talking about?  Simply, the app or tool you will use to "talk" with your customers quickly and online. There are so many platforms to choose from  — making having a dependable customer service channel available a simple step — install a chat service on your website (check out Olark or LiveChatInc), point your customers to your business Facebook messenger, or to Twitter private messages. There are still quick ways to respond to customer questions, and feedback Find what works best for you and stick with it. 
Update Your Online Store
For those businesses offering products rather than services, e-commerce has never been more important. Don't have an online store set up yet? Do it now and take the time to do it right. Catalog your inventory and establish consistency with how you represent your products. Don't forget, that you're always representing your brand, so the more consistent you are, the more customers will begin to recognize your brand identity.
Your product images should have a similar look and feel. Your product descriptions and posts should be written in the same voice. As an example, let's look at The Rock and Art Shop. Their stores in Bangor, Bar Harbor, and Ellsworth depend on that in-store customer experience, but they've since adapted by moving their massive inventory online and now post their products regularly on social media, usually with a theme, sale announcement, or holiday connection. Each photo feels like its unique store, earthy, mystical, and welcoming.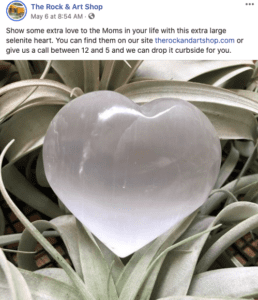 Anticipate NEW Customer Needs
Life got scary and complicated overnight, but I believe there is a silver lining for Maine businesses. In a world where everyone is struggling for answers, dependability is now in high demand. People are craving something they can rely on, and you can give that to them. Show your customers how you can make their lives easier. This can be as simple as posting about your new messaging service or delivery options (Yes, I will take that bottle of wine with my meal, thank you.), or you can take it a step further like Dave's World in Dover-Foxcroft. The team at Dave's quickly realized that, lockdown or not, people will continue to require assistance with their HVAC needs. So, in response, they rapidly adapted their customer service department to offer mobile access to their technicians. Customers can now consult with their experts and get all of the HVAC questions answered from the comfort of their homes.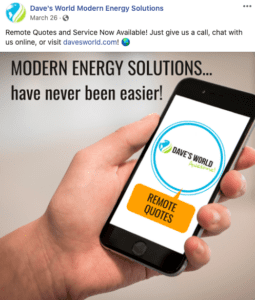 Embrace Video
In the words of James Brown "Don't fight it, feel it." The time has come for you to get over whatever fears you may have and start recording. The truth is that if you're not producing video content, you are behind the competition.
As terrible as this shut-down situation is, there is yet another silver lining…
You have a captive audience.

Everyone is home,

and they're absorbing content like sponges. Now is the time to get in front of them. 
Today's viewer is more forgiving. In a world where kids and pets interrupt company Zoom calls, we, as viewers, are more willing to forgive your scrappy video production and simply listen to your message. No one is expecting studio quality, and there are a number of things you can do to brighten it up; check

out my previous blog for tips:

https://www.sutherlandweston.com/smartphone-video-tips/

Everyone misses everyone.

There are a whole lot of emotions flying around, and every little bit of social interaction is valuable. Watching my favorite bartender mix a drink from their kitchen brings a smile to my face. Seeing a BSO musician talk about their instrument and then play a piece of music is comforting to me. The point is your customers miss you just as much as you miss them. 
Social Media Candyland
My final bit of advice is for you to do your homework and brainstorm your next social media move. The number of new tools and features being offered by the big social media platforms in response to the pandemic makes my head spin. You can offer a cooking demonstration as a Facebook event, stream your workout class on IGTV, or share an unboxing video on TikTok. Sure, this content probably won't translate into the sales that you were used to but it will prepare you for the post-COVID world that's coming our way. Customers aren't going to put down their phones and run into town as soon as the quarantine lifts; many of their decisions will continue to be made online. Think of this strange time as your training montage in an action movie, you are Bruce Lee, and social media is your nunchucks. And… fight!