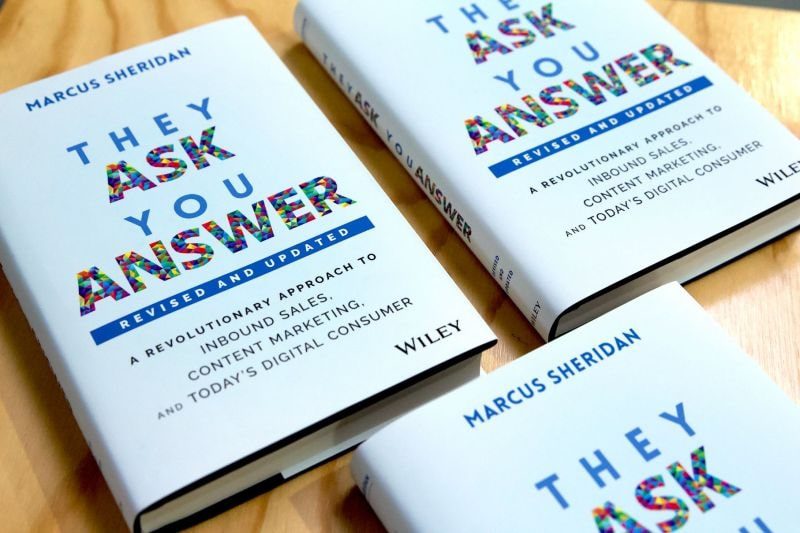 "How Do We Become The Company Of Choice?"
Answer: By becoming obsessed with the needs of the buyer.
Today's Buyers Are Changing – Is Your Company Making The Most Of That Change?
Modern buyers are making the bulk of their purchasing decisions before speaking to salespeople.
They're self-educating and getting answers long before they talk to a sales rep — and they're doing this on the internet.
Are they getting the answers they need from you or your competitor?
As Companies – We Forget What It's Like To Be The Buyer
Often, we get so caught up in marketing tasks and sales tactics that we forget what it feels like not to have the experience and expertise. Our 'curse of knowledge' gets in the way of understanding how confusing it can be for the customer to find answers and navigate the sales process for the first time.
Imagine The Following For Your Business
Customers choosing to work with you before they actually meet you.
Winning deals from your competition and getting the profits you're after.
Spending less time with the wrong prospects and prioritizing time with the right ones.
Increasing your voice of authority in your industry.
Your sales and marketing teams working together for a common measurable purpose.
Converting more traffic to leads and more leads to sales by helping the customer see success in working with you.
When they trust you, they choose you.
It doesn't matter your sector, space, channel, specialty, or industry, we are all in the same business:
Building trust with our buyers.
And the principles found in "They Ask, You Answer" have proven time and again to help businesses earn the trust that builds more leads, more sales, and more profits.
And coaching from a certified 'They Ask, You Answer' coach can help your business do the same
"Had a great chat with Cary Weston recently."
I was pleasantly surprised with the amount of value I received in such a short conversation.
Real advice that felt relevant to our content marketing strategy, and extremely practical.
Brandon Sommers
Advantage Heating & Air Conditioning
Salem, Oregon
Don't Outsource Your Marketing. Own It.
No one knows your buyers better than you.
Hiring an agency to "do it for you" puts the majority of the buyer's decision-making process (and the fate of your company) into the hands of someone other than you.
Instead of paying an agency for questionable returns, build an internal marketing team.
The team you build can outperform any agency.
When you hire an outside expert to handle this for you, you hand over the keys to your own growth engine.
What To Expect Through "They Ask, You Answer" Coaching
Your team will learn to:
Produce written content that drives revenue
Produce video content that drives revenue
Track ROI on all digital sales and marketing efforts
Manage the growth trajectory of your digital sales and marketing
Our Aim Is Your Autonomy.
We offer a coaching and training program suited to your individual needs — designed to help you take control and ownership of your digital sales and marketing.
We will coach and train your team to digital sales and marketing mastery and hold your company accountable for its own growth.
Your Team Will Have:
A strategic plan for your digital sales and marketing
Aligned sales, marketing, and leadership teams
Sales and marketing functioning as a united revenue team
Month-over-month traffic and lead growth
Interesting In Learning More About How 'They Ask, You Answer' Coaching Can Impact Your Sales & Marketing Efforts?
Let's Start A Conversation
---
What Is They Ask, You Answer?
They Ask, You Answer" is a framework is based on the philosophy and principles outlined in the book of the same name by Marcus Sheridan.
It has empowered thousands of companies around the world to reach their most aggressive goals for traffic, sales, and leads.
And it can help your business do the same.
What Type Of Businesses Does 'They Ask, You Answer' work for?
The framework is currently being used in thousands of businesses all over the world and in many types of industries, both B2B and B2C. At the core of the framework is a simple idea of educating potential buyers so they can more informed and become better customers for your business.
---