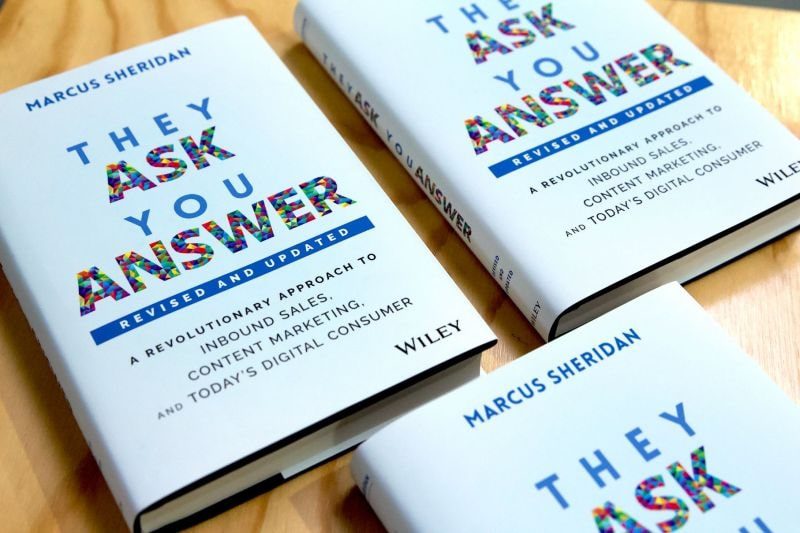 Are you looking to implement the principles of 'They Ask, You Answer' at your business?
The book has inspired thousands of businesses to re-evaluate their sales process and lead with a dedication to answering the questions their buyers ask most. The principles have proven themselves in businesses of all sizes and across a wide variety of industries.
And they can work for your business too!
Three Tips To Get Results With "They Ask, You Answer" For Your Business
Focus On Sales
"They Ask, You Answer" is a sales initiative, pure and simple. Your sales manager and sales team play a key role in participating in – and consistently using – the content being created.
Share What Others Won't
The content your team creates should objectively, honestly, and thoroughly address the problems, fears, concerns, anxieties, and issues of your buyers in ways others are not.
Be Consistent
"They Ask, You Answer" is not a project or a sprint. It's a commitment to becoming the leading voice of authority in your industry. It's reshaping your sales culture to give, help, and teach.
"Had a great chat with Cary Weston recently."
I was pleasantly surprised with the amount of value I received in such a short conversation.
Real advice that felt relevant to our content marketing strategy, and extremely practical.
Brandon Sommers
Advantage Heating & Air Conditioning
Salem, Oregon
Are you seeking a framework to improve inbound sales and digital marketing efforts?
Inbound marketing works. But too many people are doing it wrong.
You're investing in inbound marketing, but you are not seeing the results you expected.
You're writing content, but your traffic, leads, and sales growth has been slow or non-existent.
You don't have to go at it alone.
Three Ways "They Ask, You Answer" Helps Your Sales Efforts
Content Paves The Way
Implementing "They Ask, You Answer" into your business helps your team utilize their experience in scale.
Shorter Sales Cycles
Sales efforts thrive with "They Ask, You Answer" strategies because your team is adding value each step of the way.
Measuring & Monitoring
Implementing metrics helps to see how prospects interact with content and knowing what content is working.
You can align your team with a
"They Ask, You Answer" workshop
Get your entire sales, marketing, and leadership team excited about implementing
They Ask, You Answer in your business.
How To Work With A
"They Ask, You Answer" Coach
Culture Workshop
A one-day, in-person workshop,
designed to align your team around a unified digital strategy,
build a plan for the content you should be creating,
and eliminate silos from your sales & marketing teams.
---
Cost: $7,500 + Travel
Leadership & Sales Coaching
A framework of weekly and monthly coaching sessions
with your company leadership, sales team, and content creators
focused on the implementation and execution
of the core "They Ask, You Answer" principles.
---
Cost: Starting at $2,500/mo
Interesting In Learning More About How 'They Ask, You Answer' Coaching Can Impact Your Sales & Marketing Efforts?
Let's Start A Conversation
---
What Is They Ask, You Answer?
They Ask, You Answer" is a framework is based on the philosophy and principles outlined in the book of the same name by Marcus Sheridan.
It has empowered thousands of companies around the world to reach their most aggressive goals for traffic, sales, and leads.
And it can help your business do the same.
What Type Of Businesses Does 'They Ask, You Answer' work for?
The framework is currently being used in thousands of businesses all over the world and in many types of industries, both B2B and B2C. At the core of the framework is a simple idea of educating potential buyers so they can more informed and become better customers for your business.
How does your current inbound marketing efforts measure up?
Find out right now! Take this free marketing and sales assessment and learn how you can start boosign traffic, leads, and sales today.
---